Explore the 3rd dimension with Cabri 3D!
Until now three-dimensional geometry was difficult to teach – the complexity of designs in perspective, models that are difficult and time-consuming to construct… Cabri 3D is the only program that enables you to alleviate these construction difficulties and that also contains the benefits of interactive geometry.
Cabri 3D was awarded for the best resource in the category "Principal subjects of secondary" in 2007 at the BETT (British Education and Training Technology) – a ceremony that distinguishes the most innovative and performing resources in the Information and Communication Technologies for Teaching and Learning.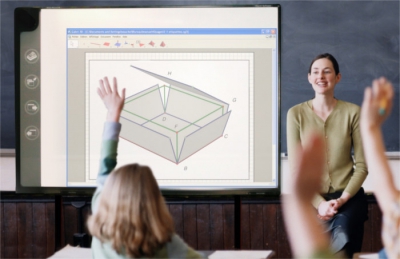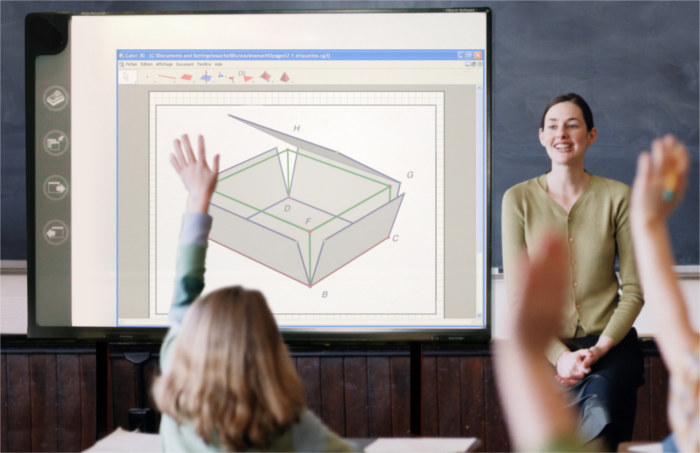 Cabri 3D, the interactive spatial geometry and mathematics software
allow to exploit the properties of the dynamic geometry and to understand mathematical constructions impossible to reproduce materially.
Towards the development of key skills
Cabri 3D is an exceptional experience that allows students to develop their ability to think in 3D and their mathematical creativity – a key competency sought by companies for problem solving.
Software for long-term results improvement
Cabri 3D offers a playful interface and animation tools enabling students to overcome their difficulties and improve their school results.
Discover the many possibilities offered by Cabri 3D
Choose the offer you want
Cabri 3D is offered under different licenses that suit your needs.
The software includes 24 languages ​​- Available for Windows and Mac.
Special pack including Cabri II Plus and Cabri 3D
Discount price for this combination of the two main Cabri applications for secondary school: Cabri II Plus and Cabri 3D.
A must have for students who want to explore math and science in a simple and pedagogical way and gain a deep understanding of 2D/3D math concepts.
Manual / Examples / Tutorials
To use Cabri 3D, users must have a computer with the following minimum requirement:
PC
Mac
Cabri 3Dv2.1 Windows requires Win XP, Vista, 7 or higher
Recommended: OpenGL compatible graphics card with 64MB RAM or more
Mac OS X 10.3 or higher
We will be happy to answer your questions and comments.
You can also contact us by mail:
CABRILOG SAS 122 avenue du Vercors 38600 Fontaine FRANCE
Cabrilog also answers you by:
Phone*
+33 (0) 4 76 43 97 00
And Fax
+33 (0) 4 76 86 17 90.
* Office hours:
Monday, Wednesday, Thursday and Friday from 9.30am to 12pm (France hours).
Attention: the standard is closed on Tuesday all day.