Explore the 3rd dimension with Cabri 3D!
Until now three-dimensional geometry was difficult to teach – the complexity of designs in perspective, models that are difficult and time-consuming to construct… Cabri 3D is the only program that enables you to alleviate these construction difficulties and that also contains the benefits of interactive geometry.
Cabri 3D won the BETT Award 2007 for the best resource in the category "Principal subjects of secondary".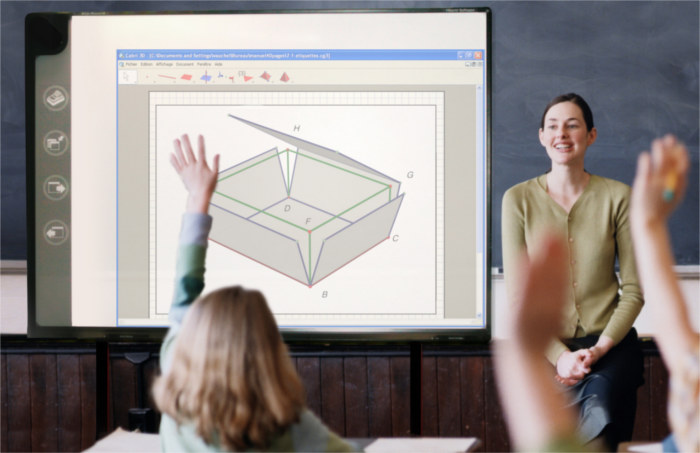 Tools for the student: from exploration to understanding
Cabri 3D offers an intuitive and playful interface and 3D visualization tools that allow the student to exploit the properties of solid geometry and to understand mathematical constructions impossible to reproduce materially.
Towards the development of key skills
Cabri 3D is an exceptional experience that allows students to develop their ability to think in 3D and their mathematical creativity – a key competency sought by companies for problem solving.
Teacher tools: from course preparation to assessment
Cabri 3D allows the teacher to develop activities enabling the assimilation of notions and the demonstration of theorems. It measures the student's level of understanding by solving mathematical problems, with possible connections to other disciplines (physics, geography, plastic arts, etc.).
Manual / Examples / Tutorials
System requirements
To use Cabri 3D, users must have a computer with the following minimum requirement:
PC
Mac
Cabri 3Dv2.1 Windows requires Win XP, Vista, 7 or higher
Recommended: OpenGL compatible graphics card with 64MB RAM or more
Mac OS X 10.3 or higher