All secondary school level mathematics… at your fingertips!
Cabri II Plus is the interactive notebook for the construction of geometrical figures that offers the user a structured and friendly interface.
In a few clicks, create geometric and numerical constructions: transformations, measurements and calculus, tables and graphical representations, expressions and equations…
Abstract concepts become clear and you become engaged in mathematical thinking: exploring and making conjectures, reasoning and proving, problem-solving, auto-evaluating…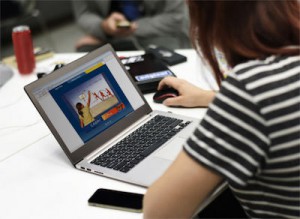 Cabri II Plus, the dynamic math and geometry software
Visualization of variation
Once the figure is built, Cabri II Plus accompanies your commands and offers you a direct and clear visualization of all the movements or variations you make on the figure.
Cabri II Plus includes a complete guide for new users, 60 concrete activities that can be used in one click and over an hour of self-training videos
Discover the many possibilities offered by Cabri II Plus
Choose the offer you want
The license concerns one computer installation and permanent access to enrichments and updates. For Windows and Mac.
Languages available in the software: Chinese (zho), Czech (ces), Danish (dan), Dutch (nld), English (eng), French (fr), German (deu), Hungarian (hun), Italian (ita), Japanese (jpn), Korean (kor), Norwegian (nob & nno), Polish (pol), Portuguese (por), Slovak (slk), Spanish (spa), Swedish (swe), Vietnamese (vie).
Download the following additional languages: Arabic (Arabic), Japanese (jpn)
Special pack including Cabri II Plus and Cabri 3D
Discount price for this combination of the two main Cabri applications for secondary school: Cabri II Plus and Cabri 3D.
A must have for students who want to explore math and science in a simple and pedagogical way and gain a deep understanding of 2D/3D math concepts.
Manual/Examples/Tutorials
To use Cabri II Plus, users must have a computer with the following minimum requirement:
PC
Mac
Cabri II Plus requires Win XP/Vista/7 or higher
Recommended: 800Mhz or higher processor, 256MB RAM, OpenGL compatible graphics card with 64MB RAM or more
Mac OS X 10.3 or higher
We will be happy to answer your questions and comments.
You can also contact us by mail:
CABRILOG SAS 122 avenue du Vercors 38600 Fontaine FRANCE
Cabrilog also answers you by:
Phone*
+33 (0) 4 76 43 97 00
And Fax
+33 (0) 4 76 86 17 90.
* Office hours:
Monday, Wednesday, Thursday and Friday from 9.30am to 12pm (France hours).
Attention: the standard is closed on Tuesday all day.